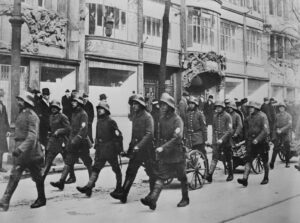 Download Weekly Study Materials
Dear Everyone,
We have been honest in our usage of 'History' especially with the added benefit of 'intertextual' studies. Once we place the various accounts of history alongside of each other, almost like a 'Barnes Arrangement,' a new understanding tends to emerge — often in a way that we may never have considered before. Episodes of history tend to have much in common — and yet the commonalities at times will elude us. In hindsight we are often surprised — this really should not have to be do. "Peace for our times" here comes to mind.
Importantly we have come to understand that history can and does have a tendency to repeat itself — although it is best understood when we study it with 'a new eye' — and approach it from many different angles.
"Study Leads to Action" (Talmud Tractate Kiddushin 40b)
"Rabbi Tarfon and the Elders were in Lod, when this question was asked of them: Is study greater or is action greater?
Rabbi Tarfon answered and said: Action is greater.
Rabbi Akiva answered and said: Study is greater.
The Assembly concurred and stated: Study is greater, as study leads to action.
Study Leads to Action: Those who forget history are doomed to repeat it.
A brief selection of salient points . . .
I. One hundred years ago, amid the implosions of Imperial Germany, powerful conservatives who led the country into war refused to accept that they had lost. Their denial gave birth to arguably the most potent and disastrous political lie of the 20th century — the Dolchstosslegende, or stab-in-the-back myth.
______
II. Its core claim was that Imperial Germany never lost World War I. Defeat, its proponents said, was declared but not warranted. It was a conspiracy, a con, a capitulation — a grave betrayal that forever stained the nation. That the claim was palpably false didn't matter. Among a sizable number of Germans, it stirred resentment, humiliation and anger. And the one figure who knew best how to exploit their frustration was Adolf Hitler.
______
III. A starving population joined the strikes and demands for a republic grew. On Nov. 9, 1918, Wilhelm abdicated, and two days later the army leaders signed the armistice. It was too much to bear for many: Military officers, monarchists and right-wingers spread the myth that if it had not been for political sabotage by Social Democrats and Jews back home, the army would never have had to give in.
______
IV. The deceit found willing supporters. "Im Felde unbesiegt" — "undefeated on the battlefield" — was the slogan with which returning soldiers were greeted. Newspapers and postcards depicted German soldiers being stabbed in the back by either evil figures carrying the red flag of socialism or grossly caricatured Jews. The Germans were so worn down by the lost war, unemployment and international humiliation that they fell prey to the promises of a "Führer" who cracked down hard on anyone perceived as "traitors," leftists and Jews above all. The stab-in-the-back myth was central to it all. When Hitler became chancellor on Jan. 30, 1933, the Nazi newspaper Völkischer Beobachter wrote that "irrepressible pride goes through the millions" who fought so long to "undo the shame of 9 November 1918."
______
V. Germany's first democracy fell. Without a basic consensus built on a shared reality, society split into groups of ardent, uncompromising partisans. And in an atmosphere of mistrust and paranoia, the notion that dissenters were threats to the nation steadily took hold.
Download Weekly Study Materials
Please follow and like us: