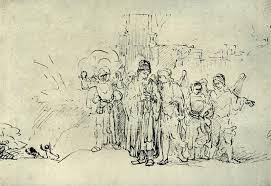 Download Weekly Study Materials
Dear everyone,
The great non transition of our government continues to proceed alarmingly apace with very little let-up in sight. I am not sure how this non transition can possibly be construed as good for America and for what we all face together as a nation at this time. The issues outlined in our last missive regarding immediate priorities in moving forward for the good of the entire country clearly places the Covid19 crisis at the apogee of our triage considerations. And this is not the only consideration before us . . .
To say that this administration has mishandled the crises borders on the obvious. Given the continuing climb of illness and death, a continuation of inaction could very possibly be understood as either insanity, malfeasance or very possibly criminal neglect. It certainly would not surprise me if inaction and denial continue unimpeded, and therefore calls for indictment could be heard again, although in a different court of law than that we as a nation experienced before. This is especially 'so' if the current departments of government, including any and all Executive offices continue to proceed down this rabbit hole of denial now coupled with escalating cases of illness and increases in death totals.
In our class we have studied the inability of our ancestors to recognize the places and predicaments in which they found themselves and then act accordingly. We have looked at localities for example, such as Lot's home near the Dead Sea and even places like Egypt, well known as a civilization wholeheartedly given over to Israelite slavery and a religious death worship.
Together we have thought this through before, even comparing and contrasting these places as places in which we were trapped in a quicksand of trauma and unable for whatever reason to move on to a better place. We saw this with Lot, and then with Moses, and the same with the Israelites as a whole, perhaps even moreso.
Could it be that 'being in a place of trauma' so compellingly holds us that we just cannot extricate ourselves; perhaps 'the jailor' is just altogether too powerful. The Torah suggests that at times ׳the jailor׳ is us and reflects our own inability to extricate even ourselves. In that way, the Torah is clear that we all too often find it difficult to realize the darkness of the cell in which we live and even less clear, we find it difficult to imagine a way out to a better place, or to a more Promised Land.
Let's hope that, for the good of us all, we now begin the process of moving forward from the darkness of denial currently enveloping the nation at this time of transition. It is well past time that we join hands, put one foot in front of the other and move forward together.
Warm regards,
Rabbi Seth Frisch / מהרש''ף
Lerhaus: A Newshul of Jewish Thought and Learning
www.newshulofamerica.org
(215) 385-0778
Please open the link below to have a 'behind the scenes look' at the materials before us, so to speak.
Download Weekly Study Materials
Please follow and like us: