7:00 — The Plague lets up after 33 days . . . and then, a rather deadly "Mandate" . . .
Tonight we will look more deeply into the original(s) of this important story . . . for it is "the story which always counts"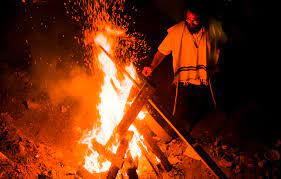 "Lag BaOmer" this year begins at sundown tonight
The ל״ג בעומר — 33rd day of the Omer, is a "kind of" Jewish holiday celebrated on the 33rd day of the Counting of the Omer ('sheaves', as in 'the bringing in of the sheaves')
One religious reason for the holiday that it marks the Yahrzeit (a year's time since the death) of Rabbi Shimon bar Yochai — who was known to have the power of warding off evil. He was also credited as being, not unsurprisingly, the author of the Kabalistic work known as the Zohar (a work of both deep mystery and Kabalistic insights — and by the way, for the record, very few are entitled to study, let alone open the book(s) of the Zohar).
on the other hand, 'historical analysis' (also known as Level 4) links this day (this 'holiday') directly to the "Bar Kokhba Revolt" against the Roman Empire and its crushing destruction of Israel and the subsequent occupation of the Jewish homeland (132-135 CE).
The religious tradition also marks Lag BaOmer as a day of Jewish celebration identifying it as the day on which the plague that killed Rabbi Akiva's 24,000 "disciples" comes to an end and for this reason, the mourning period of Sefirat HaOmer ends on Lag BaOmer (for some).
Lastly, of note, the 'plague' is understood — (which was reported to have 'let up' on the 33rd day) — as 'the Roman siege' and 'the 33rd day' — as a lull in the suffering of 'the remnant defenders' of Betar (historically, the last and final stronghold under the command of Akiva as a leader and military commander of the revolt).
Please follow and like us: