Lavush signon l'machshavah, "The garment is indicative of identity." What else does it say?
Jewish travelers on a German plane — dressed as Jews — 'seams' as if fashion never goes out of style
What does it say about Joseph's brothers who sell Joseph as a slave? What does it say about Potifar's wife and her attempt to r-pe Joseph?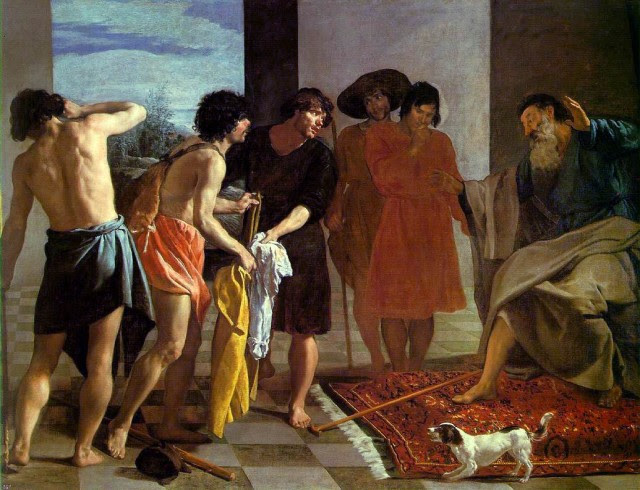 Lufthansa says it is reviewing an incident in Frankfurt, Germany, in which workers appeared to single out Jewish travelers based on appearance and names — https://www.washingtonpost.com/travel/2022/05/10/jewish-passengers-lufthansa-flight-alleged-discrimination/
"Everybody has to pay for a couple who didn't comply with mask rules," the unidentified Lufthansa representative says.
"It was Jewish people who were the mess, who made the problems."
Halpern, a 45-year-old from Long Island whose grandparents were Holocaust survivors, told the woman that picking out all Jews was "gruesome" not to even mention, antisemitic).
__________
Lavush signon l'machshavah,'garment' indicative of identity.
| | |
| --- | --- |
| לא  וַיִּקְחוּ, אֶת-כְּתֹנֶת יוֹסֵף; וַיִּשְׁחֲטוּ שְׂעִיר עִזִּים, וַיִּטְבְּלוּ אֶת-הַכֻּתֹּנֶת בַּדָּם. | Gen 37:31 And they took Joseph's coat, and killed a he-goat, and dipped the coat in the blood; |
| לב  וַיְשַׁלְּחוּ אֶת-כְּתֹנֶת הַפַּסִּים, וַיָּבִיאוּ אֶל-אֲבִיהֶם, וַיֹּאמְרוּ, זֹאת מָצָאנוּ:  הַכֶּר-נָא, הַכְּתֹנֶת בִּנְךָ הִוא–אִם-לֹא. | 32 and they sent the coat of many colours, and they brought it to their father; and said: 'This have we found. Know now whether it is thy son's coat or not.' |
| לג  וַיַּכִּירָהּ וַיֹּאמֶר כְּתֹנֶת בְּנִי, חַיָּה רָעָה אֲכָלָתְהוּ; טָרֹף טֹרַף, יוֹסֵף. | 33 And he knew it, and said: 'It is my son's coat; an evil beast hath devoured him; Joseph is without doubt torn in pieces.' |
| לד  וַיִּקְרַע יַעֲקֹב שִׂמְלֹתָיו, וַיָּשֶׂם שַׂק בְּמָתְנָיו; וַיִּתְאַבֵּל עַל-בְּנוֹ, יָמִים רַבִּים. | 34 And Jacob rent his garments, and put sackcloth upon his loins, and mourned for his son many days. |

יא  וַיְהִי כְּהַיּוֹם הַזֶּה, וַיָּבֹא הַבַּיְתָה לַעֲשׂוֹת מְלַאכְתּוֹ; וְאֵין אִישׁ מֵאַנְשֵׁי הַבַּיִת, שָׁם–בַּבָּיִת.
Potifar's wife — and Joseph's identity
Gen 30: 11 And it came to pass on a certain day, when he went into the house to do his work, and there was none of the men of the house there within,
יב  וַתִּתְפְּשֵׂהוּ בְּבִגְדוֹ לֵאמֹר, שִׁכְבָה עִמִּי; וַיַּעֲזֹב בִּגְדוֹ בְּיָדָהּ, וַיָּנָס וַיֵּצֵא הַחוּצָה.
12 that she caught him by his garment, saying: 'Lie with me.' And he left his garment in her hand, and fled, and got him out.
יג  וַיְהִי, כִּרְאוֹתָהּ, כִּי-עָזַב בִּגְדוֹ, בְּיָדָהּ; וַיָּנָס, הַחוּצָה.
13 And it came to pass, when she saw that he had left his garment in her hand, and was fled forth,
יד  וַתִּקְרָא לְאַנְשֵׁי בֵיתָהּ, וַתֹּאמֶר לָהֶם לֵאמֹר, רְאוּ הֵבִיא לָנוּ אִישׁ עִבְרִי, לְצַחֶק בָּנוּ:  בָּא אֵלַי לִשְׁכַּב עִמִּי, וָאֶקְרָא בְּקוֹל גָּדוֹל.
14 that she called unto the men of her house, and spoke unto them, saying: 'See, he hath brought in a Hebrew unto us to mock us; he came in unto me to lie with me, and I cried with a loud voice.
טו  וַיְהִי כְשָׁמְעוֹ, כִּי-הֲרִימֹתִי קוֹלִי וָאֶקְרָא; וַיַּעֲזֹב בִּגְדוֹ אֶצְלִי, וַיָּנָס וַיֵּצֵא הַחוּצָה.
15 And it came to pass, when he heard that I lifted up my voice and cried, that he left his garment by me, and fled, and got him out.'
Please follow and like us: