Are African Americans re-emerging as pawns in a 'Ye' olde/new and ugly Game of Thrones . . .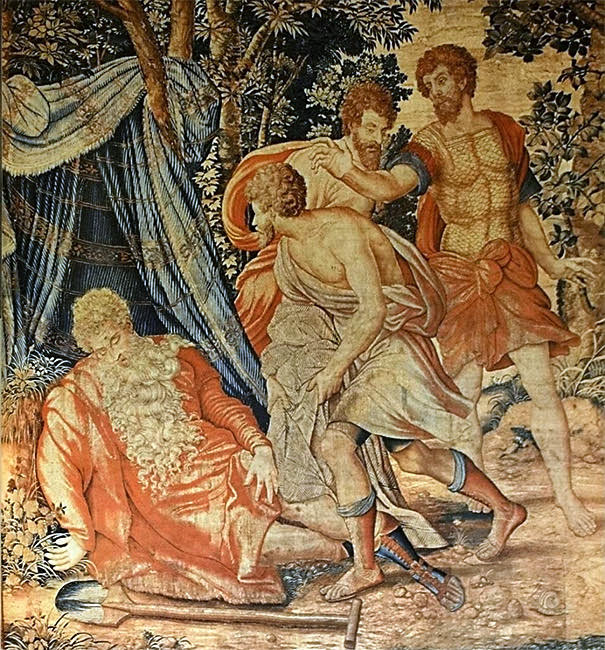 From the Parsha of Noah: Noah is angry at Ham, but lashes out at Ham with these words:
"Cursed be Canaan . . . . "
| | |
| --- | --- |
| כב  וַיַּרְא, חָם אֲבִי כְנַעַן, אֵת, עֶרְוַת אָבִיו; וַיַּגֵּד לִשְׁנֵי-אֶחָיו, בַּחוּץ. | Genesis 9: 22 And Ham, the father of Canaan, saw the nakedness of his father, and told his two brethren without. |
| כד  וַיִּיקֶץ נֹחַ, מִיֵּינוֹ; וַיֵּדַע, אֵת אֲשֶׁר-עָשָׂה לוֹ בְּנוֹ הַקָּטָן. | 24 And Noah knew what his youngest son had done unto him. |
| כה  וַיֹּאמֶר, אָרוּר כְּנָעַן:  עֶבֶד עֲבָדִים, יִהְיֶה לְאֶחָיו. | 25 And he said: Cursed be Canaan; a servant of servants shall he be unto his brethren |
Who exactly is Canaan? And by the way who are Shem and Yaphet? Family? Family of Man?
_____
Notes: Let's imagine for a moment, there's an identifiable people in a world, in lands not of their origin . . . 'a certin people without a land', a people without sovereignty with no particular sense of safety nor protection — so then, what now and where to?
1. Jews in the world of the Twitter-verse . . .
Notes from the NYT: "Twitter has an antisemitism problem — with hashtags such as #holohoax [Holocaust Hoax] and #killthejews abounding on the site," Michael Masters, the group's national director and chief executive, wrote in the letter.
https://www.nytimes.com/2022/11/01/technology/musk-twitter-antisemitism-security-group.html
"You can't have a digital town square if a significant part of the population feels they're going to get lynched in it,"
. . . that Twitter had played a "significant role" in creating what he called the most complex and dynamic set of threats against the American Jewish community in history, and he encouraged Twitter's new owner to reverse that trend.
"This is not about the First Amendment," Mr. Masters wrote. "And it is not about freedom. This violent speech must be monitored and policed like lives depend on it — because they do."
_________
2. Jews in the world of a"Ye Olde Hatred" — or is it just simply a 'Kanye and his friends Watch' accompanied by an 'Adidas Response' — is it Jew hatred, Jew resentment, and Jew economics all bundled together in a somewhat olde/new wrapping?
Note: 2.0 is coming (again) soon: the non-Jewish African American Response
— the current oppressed and the past oppressor — do they collude or part ways — and why?
Adidas, the German company founded by a Nazi, decides to cut ties citing hatred and bigotry: from the NYT:
https://www.nytimes.com/2022/10/25/business/dealbook/adidas-kanye-west-antisemitism-terminates-partnership.html?searchResultPosition=1
"Adidas said earlier this month that it was putting its deal with Ye "under review" — prompting the Anti-Defamation League to shoot back, "What more do you need to review?" The A.D.L. stepped up its pressure on Adidas this week after a group hung a banner reading "Kanye is right about the Jews" over a Los Angeles freeway.
(The company has a complicated history with antisemitism: Its founder, Adi Dassler, was a member of the Nazi Party. People who make antisemitic statements online can be prosecuted in Germany, and companies with ties to the Nazi era are expected to act to prevent the return of such sentiment.)
There's a strong business rationale for cutting ties with Ye now. Adidas's stock price has dropped 23 percent over the past month as Ye's erratic behavior drew criticism.
___________
Please follow and like us: