Do words lead to final solutions . . .
Cancel the words? Cancel the command? Cancel the person?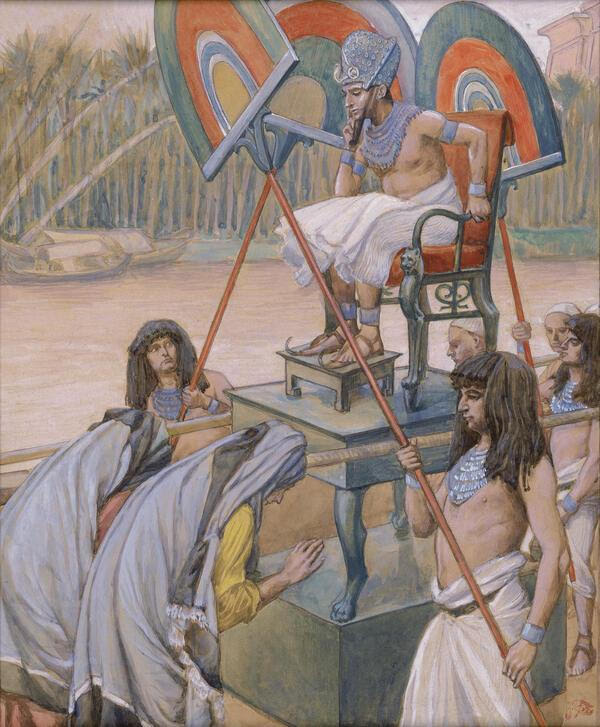 "Just following orders" — follow from a culture flowing with words of hate — all of which tends to emanate from somewhere . . .
And just "who" were these Hebrew midwives within this culture . . . and what was their role to be in an 'almost final solution?'
1:15 The king of Egypt spoke to the midwives of the Hebrews, of whom the name of the one was Shiphrah, and the name of the other Puah, 1:16 and he said, "When you minister to the Hebrew women, check the birth stool; if it is a male child, then kill him; but if it is a female child, then let her live." 1:17 But the midwives feared God, and didn't do what the king of Egypt commanded them, and allowed the baby boys to live. 1:18 The king of Egypt called for the midwives, and said to them, "Why have you done this thing, and let the boys live?" 1:19 The midwives said, "Because the Hebrew women aren't like the Egyptian women; they are vigorous, and give birth before the midwife comes to them."
The midwives were ordered to carry out a baby-gender-genocide . . . and yet, apparently, the plan didn't work out as planned.
And just "who" were these midwives . . . and the almost final plan?
דִּבֶּר אֲלֵיהֶן מֶלֶךְ מִצְרָיִם וַתְּחַיֶּיןָ אֶת הַיְלָדִים. א:יח וַיִּקְרָא מֶלֶךְ מִצְרַיִם לַמְיַלְּדֹת וַיֹּאמֶר לָהֶן מַדּוּעַ עֲשִׂיתֶן הַדָּבָר הַזֶּה וַתְּחַיֶּיןָ אֶת הַיְלָדִים. א:יט וַתֹּאמַרְןָ הַמְיַלְּדֹת אֶל פַּרְעֹה כִּי לֹא כַנָּשִׁים הַמִּצְרִיֹּת הָעִבְרִיֹּת כִּי חָיוֹת הֵנָּה בְּטֶרֶם תָּבוֹא אֲלֵהֶן הַמְיַלֶּדֶת וְיָלָדוּ.
Who indeed?
Ye Olde Notes . . .
From the Washington Post: He painted a mural of Kanye West. Then a rabbi called: https://www.washingtonpost.com/nation/2023/01/10/kanye-west-antisemitism-chicago-murals/ (see notations from the article below — if you need a copy of article — please let me know — file this under "words lead to consequences.")
Then Ye launched into a weeks-long tirade against Jews, and attention abruptly shifted from his creative legacy to his antisemitic rants.
"I'm going death con 3 on JEWISH PEOPLE," Ye tweeted in October, apparently referencing Defcon, the U.S. military defense readiness system. He blamed Jews for society's ills on podcasts and live streams. He refused to back down after losing a $1.5-billion sneaker deal with Adidas, among other lucrative partnerships. "I like Hitler," Ye said in a December interview with Infowars founder Alex Jones. "Hitler has a lot of redeeming qualities."
The antisemitism reverberated. A group of men raised their arms in Nazi salutes while draping a banner over a Los Angeles freeway that read: "Kanye is right about the Jews." A similar proclamation was projected onto the side of a stadium during a college-football game in Jacksonville, Fla. Another appeared in red paint on a Jewish grave about 30 miles north of Devins' mural: "Kanye was rite."
Please follow and like us: