The lessons of Noah come flooding back but where's the Dove? — The Raven, never more .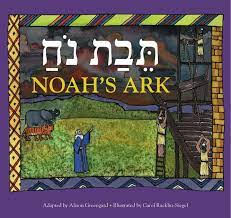 The Hope . . . (Where's the Dove, where's the Rainbow)
Genesis 9:15, 16
וְזָכַרְתִּ֣י אֶת־בְּרִיתִ֗י אֲשֶׁ֤ר בֵּינִי֙ וּבֵ֣ינֵיכֶ֔ם וּבֵ֛ין כׇּל־נֶ֥פֶשׁ חַיָּ֖ה בְּכׇל־בָּשָׂ֑ר וְלֹֽא־יִֽהְיֶ֨ה ע֤וֹד הַמַּ֙יִם֙ לְמַבּ֔וּל לְשַׁחֵ֖ת כׇּל־בָּשָֽׂר׃ I will remember My covenant between Me and you and every living creature among all flesh, so that the waters shall never again become a flood to destroy all flesh.
וְהָיְתָ֥ה הַקֶּ֖שֶׁת בֶּֽעָנָ֑ן וּרְאִיתִ֗יהָ לִזְכֹּר֙ בְּרִ֣ית עוֹלָ֔ם בֵּ֣ין אֱלֹהִ֔ים וּבֵין֙ כׇּל־נֶ֣פֶשׁ חַיָּ֔ה בְּכׇל־בָּשָׂ֖ר אֲשֶׁ֥ר עַל־הָאָֽרֶץ׃ When the bow is in the clouds, I will see it and remember the everlasting covenant between God and all living creatures, all flesh that is on earth.
____________
The Warning . . . (Without these, the Raven, never more)
Seven 'prohibiting' commandments' to the sons of Noah and to all of humanity:
the establishment of courts of law (dinim)
the prohibition of idolatry (avodah zarah)
prohibit blasphemy (qilelat ha-Shem)
the outcomes and ramifications of sexual immorality (gilui arayot)
the shedding of innocent blood (shefikhut damim)
prohibition of Stealing, robbery (gezel)
forbidden to take a limb torn from a living animal (ever min ha-hay)
The Note . . . (thus the Bow)
Nobody needs to convert or join a particular church or temple to keep these principles and laws. Anyone who keeps these basic rules regardless of race, nationality, or culture is considered a righteous person and can survive — AND perhaps granted eternal life upon leaving this world.
_____________
Side note:
The (calendrical) times in which we find ourselves . . .
Rosh Chodesh Cheshvan 2022 / רֹאשׁ חוֹדֶשׁ חֶשְׁוָן 5783
Rosh Chodesh Cheshvan for Hebrew Year 5783 begins at sundown on Monday, 24 October 2022
The Hebrew month of Cheshvan, which follows Tishrei on the Jewish calendar, is referred to in the Tanach as The Month of Bul (1st Kings, Chapter 6:38). There's a thought that this name or reference is due to the word Mabul, or flood as it is named due to the exceedingly large amount of rain which falls in this month — AND since it marks the beginning of the great Flood during the time of Noah (which just happens to be the Parashah we read this very week).
Please follow and like us: