Jewish Space Lasers funded by the Rothchilds ("Lions Tigers and Bears, oh my . . ").
Exodus Chapter 1:10: "Let us deal shrewdly with them so that they may not increase; otherwise in the event of war they may join our enemies in fighting against us and rise from the ground."
"They are just not from here — they are not us and they cannot be trusted — they have become too numerous to control and they will take us over . . . with lasers . . ."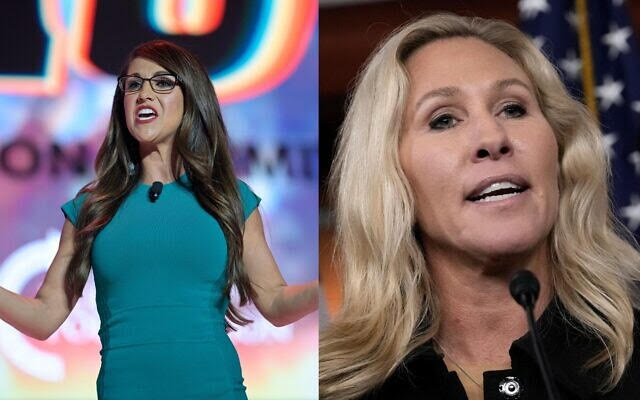 Also this week, two darlings of the QAnon crowd traded jabs. Boebert mocked Greene for her belief in "Jewish space lasers."
https://www.washingtonpost.com/opinions/2022/12/22/zelensky-visit-mccarthy-house-lame-duck/
https://www.timesofisrael.com/boebert-needles-fellow-gop-member-marjorie-taylor-greene-over-jewish-space-lasers/
_____
The phrase, a clear potshot at Greene, has dogged her ever since she was revealed to have posted Facebook screeds in 2018 implying that a company owned by the Rothschilds, the wealthy Jewish banking family, had started a California wildfire from space. Although the Georgia congresswoman has insisted she never uttered those exact words, her Rothschild comment was just one of her several brushes with antisemitism, which have also included an embrace of the QAnon conspiracy theory and likening Biden to Hitler. Her beliefs have earned her scorn from figures on both sides of the aisle, as well as widespread condemnation from the Jewish community.
_____
Here's the Torah in context:
A new king arose over Egypt who did not know Joseph.
וַיֹּ֖אמֶר אֶל־עַמּ֑וֹ הִנֵּ֗ה עַ֚ם בְּנֵ֣י יִשְׂרָאֵ֔ל רַ֥ב וְעָצ֖וּם מִמֶּֽנּוּ׃ And he said to his people, "Look, the Israelite people are much too numerous for us.
הָ֥בָה נִֽתְחַכְּמָ֖ה ל֑וֹ פֶּן־יִרְבֶּ֗ה וְהָיָ֞ה כִּֽי־תִקְרֶ֤אנָה מִלְחָמָה֙ וְנוֹסַ֤ף גַּם־הוּא֙ עַל־שֹׂ֣נְאֵ֔ינוּ וְנִלְחַם־בָּ֖נוּ וְעָלָ֥ה מִן־הָאָֽרֶץ׃ Let us deal shrewdly with them, so that they may not increase; otherwise in the event of war they may join our enemies in fighting against us and rise from the ground."
Please follow and like us: