Download Weekly Study Materials
Not 80 years have gone by since an attempt at an almost full destruction of the Jewish people — and yet both in Israel and abroad, there have arisen an outpouring of new expressions of Jewish culture, all of which are emerging from what one might describe as from the Jewish Nation. And here by 'Nation' I am not simply describing a country called Israel, although the synergies arising from there have brought about amazingly new expressions of Jewish creativity, and in many cases inspired a renewed Jewish flourishing. This is something that the founders of Israel had hoped for, even those who had equally hoped to maintain a healthy Jewish Diaspora of the Jewish Nation (all collectively known as an 'Am,' as in 'Am Yisrael').
I know we too often bewail the 'Jewish future' while gazing out towards the crest of the horizon, there sighting blood-thirsty-Cossacks bearing down on us, sharpening their swords just before the final moments of their pillaging and our imminent destruction. Among us there are those who are like the "Wise Men of Chelm" of literature, still standing around the proverbial-village-well 'wringing their hands' at what appears will imminently befall the Jewish people; yet another pogrom, another massacre and the destruction of the whole of the Shtetl, or the village. All of this imagery we seem to have inherited and not surprisingly, maintain to this day.
We will at times look back to Fiddler on the Roof at the moment when the Rabbi is asked for a blessing for the Czar. This is the same moment in which his now famously quoted response is that the Czar should stay 'far-far-away-from-us.' While this was humorous to audiences of its day, not surprisingly, this can also be understood as a blessing which finds current resonance among the many peoples who sit much closer to the current Czar, such as the Ukrainian nation, it what now appears as an ongoing intersection of Jewish and Ukrainian-Cossack history.
As we enter into the third decade of the 21st Century, the Jewish people now faces what many of us have come to understand as the 'current crises' confronting the Jewish people. Although, here the verse from Qohelet (Eccliastes) comes very close to mind, more as that of "There is nothing new under the Sun."
ט מַה-שֶּׁהָיָה, הוּא שֶׁיִּהְיֶה, וּמַה-שֶּׁנַּעֲשָׂה, הוּא שֶׁיֵּעָשֶׂה; וְאֵין כָּל-חָדָשׁ, תַּחַת הַשָּׁמֶשׁ.
Ecc: 1:9 That which hath been is that which shall be, and that which hath been done is that which shall be done; and there is nothing new under the sun.
There continue discussions among us on the many 'crises of assimilation' — discussions that many understand as an almost internal destruction of the Jewish people. There are also geopolitical crises that no one can seem to agree upon vis a vis the current state of 'existential threats' emanating from 'modern' Iran — threats, existential or otherwise, which are eerily parallel to an 'Esther-Mordechai-Haman-disaster-in-the-making' scenario. And finally, if not too sad to mention, there appears to be a rising tide of Jew-hatred, not just here and abroad, but sadly from within the Jewish community as well. This is something that is truly painful to us, however just as painful, it is nothing new to us.
As I reflect back, even in my own lifetime, and especially after a week in which the Jewish people commemorates a modern independence day, a day which is preceded by 'a day of memorial' for those lost in 'the re establishment' of the only state in history to ever to go out of existence. Here I note the expression of 're establishment' cannot ignore the religiously foretold phenomenon of 'resurrection from the dead,' especially in light of the preceeding 10 years of the Shoah (i.e. the Holocaust).
Any theologically minded person, whether Jewish or Christian, would be hard pressed to understand this in anything less than miraculous terms as the 'resurrection-of-the dead-in-fulfillment-of-the-Prophets.' I might add, this would be difficult for those less theologically minded as well.
No, we are not at the 'End of Times' — although we certainly are at a 'crossroads' and not anywhere akin to being out of the woods. You might say, we are almost as if on the road out of Egypt, and yes, a road to a more Promised Land, almost a metaphorical land encompassing all of its religious and national manifestations — and in all of its meanings.
There is much we can hope for and build upon for the future, but as a people, and as a Nation which has come back to life, as Shakespeare wrote in the Tempest, the past is prologue, and in somewhat of an ironic-like twist, it is really just the beginning (pls see the class attachment).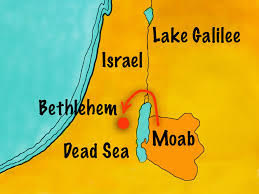 Join us this Wednesday as we explore Jewish and Israelite identity and as a young girl from Moab finds herself on the road to a Promised Land and finds her fulfillment in a land of many grains and seedlings, all yet 'to take root' and grow.
Warm regards,
Seth
P.S. Don't forget the upcoming Second Passover, cited in the Torah in Numbers Chapter 9, commemorated this Saturday evening, April 25th . . . As a Second Chance in Life . . .
Download Weekly Study Materials
Please follow and like us: