Download Weekly Study Materials
Reform, Conservative, Haredi — it's all in the family
(This week, Joseph, Mayim Bialik, YidLife Crisis and . . . Benji)
Here below are Robyn's reflections, published in the Forward, on Life with Benji. (note: for the record, Benji's Yiddish is quite good) . . .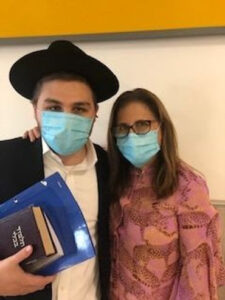 "Does he speak Yiddish? (Some, though people in his community also speak English and Hebrew.) Will he have an arranged marriage? (No, but in a few years, when he's ready, he'll be "fixed up," go on a few dates — in public — and he and a woman who both choose to marry each other will marry within a relatively short time. And yes, men and women will be separate at the wedding.)"
Article: Reform, Conservative, Haredi — it's all in the family (link)
From the article: "Benji's been gone for over four months now, and while we miss him tremendously, I'm grateful that he's loving his time in Israel — and thankful that he's healthy, too. He calls every Friday morning, before Shabbat starts in Israel, sharing his week and wanting to know what's going on with the rest of the family before wishing us a heartfelt "Gut Shabbos."
Hours later, when Shabbat arrives here, it's bittersweet for me as I bless my other two children on Friday evening. On Saturday, I miss my chess games and long Shabbat conversations with Benji. But I know that Benji is thriving and growing into the young man he has chosen to become — perhaps even that he was meant to become. And for that I thank God — something that Benji and I can both agree on."
Rabbi Robyn Frisch is the Director of the Rukin Rabbinic Fellowship for 18Doors. She is also the Spiritual Leader of Temple Menorah Keneseth Chai in Philadelphia.
Now for a side of 'Yiddish Matchmaking' that we rarely see . . .
If you're thinking of being a Shadchan in this day and age, this is a must see. For the record, Shalom Aleichem's טבֿיה דער מילכיקער, Tevye der Milkhiker would have given up long before.
The Double Date – Yid Life Crisis — with Mayim Bialik
Actress plays no-nonsense neurosurgeon pre-screening her schmendrick suitors in less-than-romantic 'YidLife Crisis' episode
"Big Bang Theory" actress and attachment parenting guru Mayim Bialik guest stars in the episode as Chaya, a high-powered, no-nonsense neurosurgeon apparently set up by her mother on a blind date with Leizer, the slightly nebbishy character played by Batalion.
The two meet at a kosher sushi restaurant in Los Angeles, which is far from the series' usual setting of Montreal. Chaya comes to the blind date with a long list of questions to ask Leizer. It's her way of cutting to the chase and not wasting any of her precious time.
"As our mothers may have discussed, I'm interested in leading a traditional Jewish life. I'm seeking candidates. I know exactly what I want. I have all the questions right off the bat, so a blind date is just a more efficient way of seeing if this is even possible," Bialik's character states.
We live in a world of many identities, often living side by side and just as often on top of each other. Some of us are alone, others together, some beneath masks, others are less so, all of it plays out in families . . . as time goes by.
Warm regards,
Seth
Download Weekly Study Materials
Please follow and like us: